I – Qnap ISCSI "Interrupted Actions: An Unexpected Error Is Keeping You From Copying The File" Problem;
II – How To Solve? Just Start Chkdsk Commad to Your ISCSI Lun
.
I – Qnap ISCSI "Interrupted Actions: An Unexpected Error Is Keeping You From Copying The File" Problem;
If you got this problem while uploading a file to your iSCSI Lun;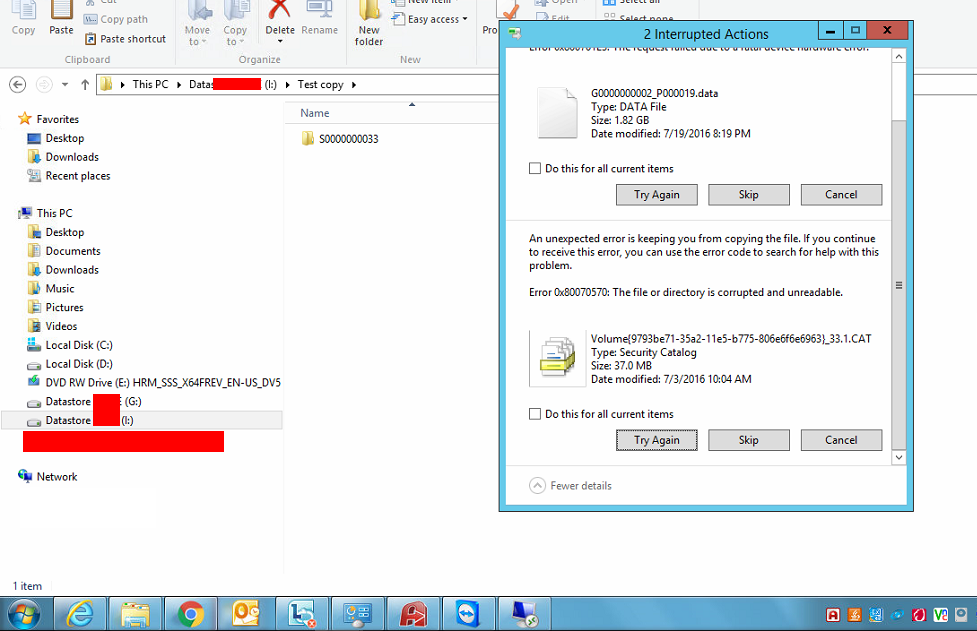 .
II – How To Solve? Just Start Chkdsk Commad to Your ISCSI Lun
open cmd with admin privileges, start menu->search: cmd -> right click on it and select "run as an admin"
once in the dos window, type chkdsk X: /F, where X is the letter assigned to your Qnap ISCSI LUN,
http://www.tomshardware.co.uk/answers/id-2030420/run-chkdsk-external-hard-drive.html
.
Step, by Step;
Run a Scan from the Command Line
Click Start | Run.  Enter CMD.  Click OK.
At the command prompt, enter the command CHKDSK E: /R where "E:" is the drive letter assigned to the drive by Windows. The /R option flag is the equivalent of checking both boxes in the GUI version of the scan.
Wait for the process to finish. The larger the drive and/or the more errors it has, the longer the process will take.
When the process is complete, review the results on the screen.  If any bad sectors were repaired or data recovered, the drive may be usable, but you may want to consider replacing the disk as these errors could indicate potential drive failure in the future.
Enter the command EXIT and press Enter on the keyboard to close the command prompt window.
https://pattersonsupport.custhelp.com/app/answers/detail/a_id/20907/~/windows—running-disk-scan,-chkdsk-on-an-external-hard-drive
Qnap ISCSI "Interrupted Actions: An Unexpected Error Is Keeping You From Copying The File" Problem;Qnap ISCSI 'de "Interrupted Actions: An Unexpected Error Is Keeping You From Copying The File" Problemi ve Çözümü;

,