I – How To Choose NAS / NVR For Surveilance Station
II – Axis Camera Bandwith & Storage Calculator;
III – Qnap Offical Storage Calculator
.
I – How To Choose NAS / NVR For Surveillance Station
How To Choose NVR?
You can easly choose a Qnap NVR by checking device codes.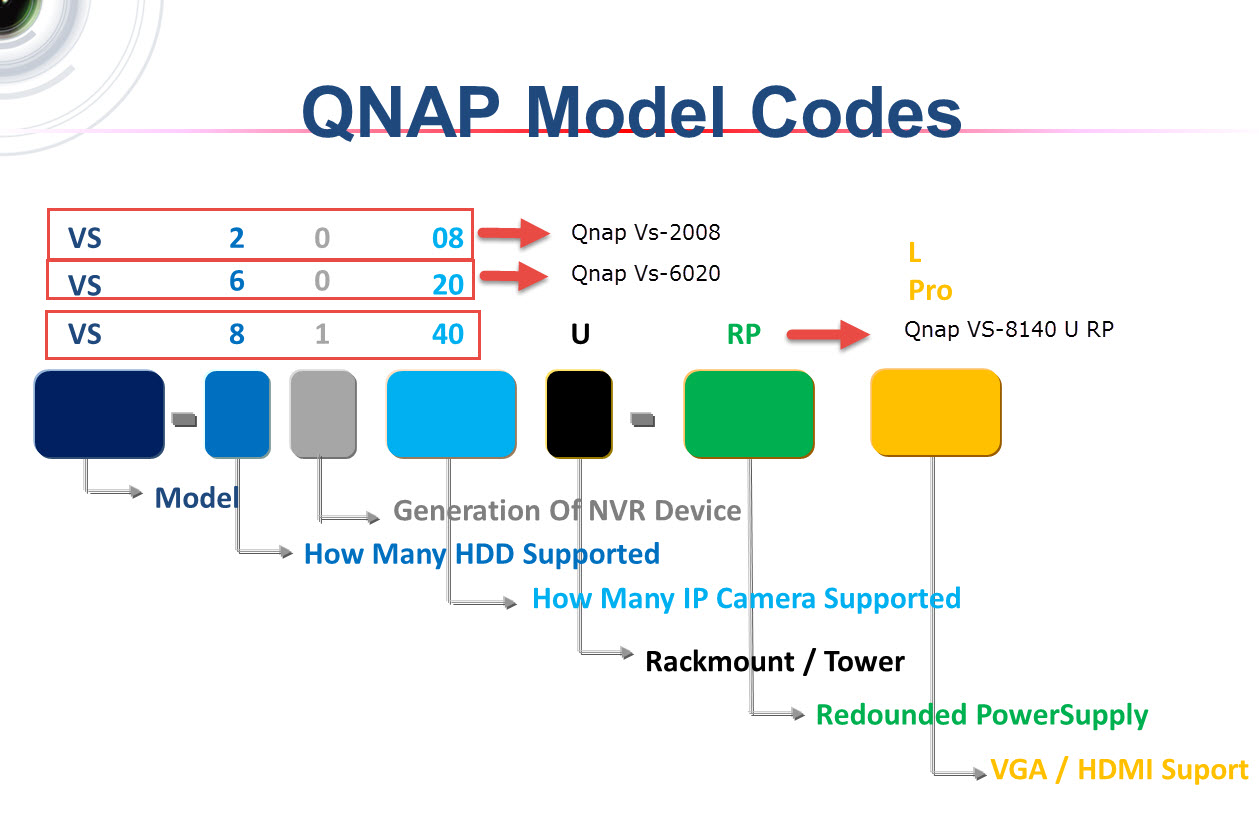 If you need 8 HDD and 40 Camera support and a Rackmount case, you should choose Qnap Vs-8140 U-Rp.
.
How To Choose NAS For Surveillance Station?
.
Qnap Bandwith Table;
.
Camera Recording Size;
.
II – Axis Camera Bandwith & Storage Calculator;
AXIS Design Tool helps you estimate bandwidth and storage needs for your surveillance project. For each camera in your project, you can pick a scenario, and select viewing, recording and compression options to get bandwidth and storage estimates that match your surveillance situation.
The new AXIS Design Tool version 2 combines all of the functionality of the original tool, in addition to these new possibilities:
Sharing your project design with others
Creating multiple projects
Working offline
How To Calculate;
http://www.axis.com/products/video/design_tool/v2/
1 – Choose Setting Down Below and Be Sure To Check These Options,
2 – Dont Forget To Choose How Many Days You Plan To Record;
3 – You Can See Storage How Much Space You Need and Bandwith Rate;
.
II – Qnap Offical Storage Calculator
Choose a Turbo NAS
QNAP provides an easy-to-use Turbo NAS Surveillance Station Selector to help you choose an ideal Turbo NAS that meets your requirement of storage capacity and bandwidth. To learn more about QNAP surveillance solutions, please feel free to contact us by
http://www.qnap.com/calculate/en/pro/index.php
Important notice
The QNAP NAS / NVR selector (hereinafter referred as "Software") is mainly used for reference only. Please note the estimate and recommendations result from a limited number of test scenarios. The user of Software acknowledges and agrees that every installation of a camera system is unique and that the actual result measured may differ from the estimates produced by software. User will make its own determination as to the suitability for its purposes. QNAP will not be responsible for damages for any nature whatsoever resulting from the use of or reliance upon the results produced by Software.
Disclaimer
The entire risk as to the results and performance of the Software is assumed by you / the user. QNAP disclaims all warranties, whether express or implied, including but not limited to, the implied warranties of merchantability, fitness for a particular purpose, title and non-infringement, or any warranty arising out of any proposal, specification or sample with respect to Software. QNAP and / or its licensor(s) shall not be liable for loss of data, loss of production, loss of profit, loss of use, loss of contracts or for any other consequential, economic or indirect loss whatsoever in respect of use or disposition of the Software.
Qnap NVR IP Camera Bandwith & Storage CalculatorQnap NVR Cihazları İçin IP Camera Bandwith & Alan Hesap Tablosu

,