I – HDMI Features: Turn Qnap into A Real Home-Theatre System With XBMC
II – HDMI Features: Control Your NAS Pc-Less System
III – HDMI Features: Pc-less Professional Surveillance Station
IV – HDMI Features: Youtube & Chrome
V – Qnap DLNA & UPnP Serve Features: Connect & Share Your Multimedia Files
VI – Qnap Video Station: Build a Personal Video Website
VII – Qnap TV Station: Never Miss Your Favorite Tv Shows
VIII – Qnap Download Station: Download Your Torrent & Rapidshare Files Without Pc
IX – Qnap Music Station: Organize Music With Music Library
X – Qnap DJ Station: Channel Your Music Talent On The Air
XI – Qnap PS3 Multimedia Server
.
I – HDMI Features: Turn Qnap into A Real Home-Theatre System With XBMC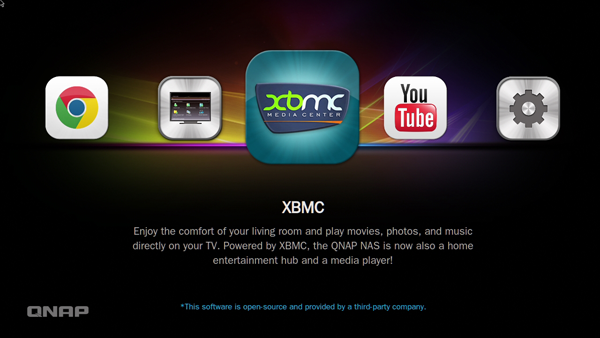 .
II – HDMI Features: Control Your NAS Pc-Less System
MyNAS: Enter the local NAS administration web page to view the NAS functions and settings.
Configure the settings of the HD Station: You may configure the HD Station by choosing "Settings" at the HD Station portal.
In the "App" feature, the applications can be enabled or disabled.
In the "Display", you may change the screen resolution and set up to turn off the screen after an amount of idle time.
In the "Preferences", you may change the language or type of remote control.
Note 1: The TS-x70 series only supports the MCE remote control.
Note 2: Currently the HDMI Audio Passthrough is not supported for TS-x69 series.
Note 3: Depending on the data type, some files may not be playable
III – HDMI Features: Pc-less Professional Surveillance Station
IV – HDMI Features: Youtube & Chrome
Chrome: With the help of Chrome, the QNAP Turbo NAS brings endless web content to your HDTV. Just sit back, relax, and surf the internet on your couch. Select the Chrome application at the main page of the HD Station like below:
Note: In order to use this application, you are required to use the mouse function on the Qremote, or use the USB mouse directly connected to the NAS.
YouTube: Simply browse and click to enjoy millions of YouTube videos on your TV. Select the YouTube application and start enjoying the YouTube contents.
.
V – Qnap DLNA & UPnP Serve Features: Connect & Share Your Multimedia Files
VI – Qnap Video Station: Build a Personal Video Website
VII – Qnap TV Station: Never Miss Your Favorite Tv Shows
VIII – Qnap Download Station: Download Your Torrent & Rapidshare Files Without Pc
IX – Qnap Music Station: Organize Music With Music Library
X – Qnap DJ Station: Channel Your Music Talent On The Air
XI – Qnap PS3 Multimedia Server
Qnap Multimedia, DLNA & HDMI FeaturesQnap'ın Multimedya, DLNA & HDMI Özellikleri

,